Main Menu
click image to enlarge
The Send a Child to Hucklow Fund


The Story of "Send a Child"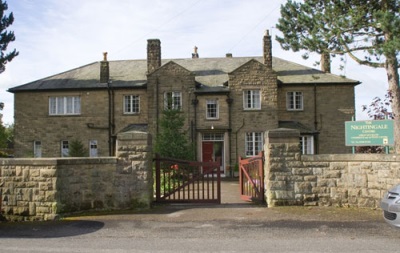 The Nightingale Centre
One of the most attractive areas of the North of England is the Derbyshire Peak District, with its many pretty villages. One such is Great Hucklow, underneath Hucklow Edge with its well-known gliding field. This is the site of the British Unitarian denomination's Holiday and Conference Centre; some few years ago renamed "The Nightingale Centre".
The Centre had its beginnings in the closing years of the 19th century, being the idea of Rev Lawrence Scott of Manchester - who had a famous brother, C.P.Scott, founder editor of what was then the Manchester Guardian newspaper; and Rev Charles Peach of Sheffield - whose son was the famous local playwright, L. Du Garde Peach. These two so enjoyed the village and countryside of Great Hucklow that they began to bring poor children from Sheffield and Manchester, children brought up amidst the grime and bustle and squalor of these industrial cities, to have a few days enjoying the quietness and cleanliness and spaciousness of life in the countryside.

Rev C Peach
Charles Peach's own camping holidays, led to his bringing Sunday School kids, and the erection of a small hut in which they could leave the heavier camping gear, instead of having to lug it from Sheffield for every visit. Their early initiative led to a permanent wooden "Children's Home""'s being built in 1899, financed by donations from Charles' friends.
This in turn led to Laurence Scott's handing over his farmhouse, "Barleycrofts", in 1908, as a holiday home for women. It is still there, opposite the Chapel, one of the oldest in the Peak District.
Then there was built a "men's home" in 1918, replaced in 1931 by the present stone building, the latter named after Florence Nightingale, and being a memorial to the men who died in the First World War.
*****
For some forty-odd years the homes thrived, providing inexpensive holidays amid the delights of the countryside for thousands upon thousands of children and adults: in many cases, it was usually the only holiday each year that most of them had.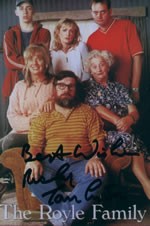 The Royle Family
One such visitor in the 1950s was a certain Ricky Tomlinson, one of a group from a Liverpool Boys Club. In his autobiography he referred to this holiday, though, until we put him right, remembered it as being "somewhere in Wales". He recalled the gliding-field!
However, by the latter 1950s an ever widening prosperity, when as you will recall British Prime Minister, Harold Macmillan, told us "You've had never had it so good", meant that an ever-growing number of people could enjoy more opulent holidays, even travelling abroad. The Homes went into decline, even though they were upgraded from time to time in a bid to attract weekend visitors, or people wanting a conference centre. Their original purpose rather faded away.
My own first visit, around 1957 I think, as a member of the then "Unitarian Young People's League" (U Y P L), involved Children's Home accommodation, with communal eating and dancing in the central block (with its kitchen behind ), and separate girls and boys "dorms" containing bunk beds, and outdoor washing facilities at the outer ends! Primitive indeed!!
*****
As the 50s became the 60s, the then prominent young adults of the denomination were very active. The Homes were, we were told, within weeks of closure. It was in 1961 that the Rev. Peter Godfrey, then Minister at the Unitarian congregation at Altrincham, near Manchester, now our "Send-a-Child" Chairman of Trustees, began wondered about reviving the original purpose, providing inexpensive holidays for needy children. He made appeal, along with Rev Glyn Pruce, in our denominational Journal, "The Inquirer", of Dec 9th 1961, and raised...£61! So in 1962 the first of the "Send a Child to Hucklow" holidays as such was run, with the children coming from the Family Service Unit in Manchester, a Cinderella social service organisation dealing with problem families no one else would touch!
The next year there were three holiday weeks, with volunteer leaders and helpers recruited by sponsoring congregations. A now retired ministerial colleague wrote about his experience that year…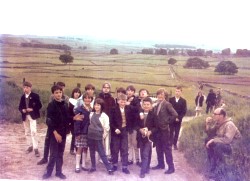 "I was invited to lead the group that came from…, and on the morning of Monday, September 23rd 1963 I sat on the lawns of Great Hucklow with one of my helpers, Kathleen, and we wondered what we had let ourselves in for. We knew from the experience of the [other] group that the children would not be nice well-mannered children. They would be rogues! They had fought over the first meal - because they thought there might not be enough food to go round - and the walks had to be cancelled because many of the children wore only threadbare plimsolls on their feet [I recall there was for a long time a store of wellies at the Centre!!]…They arrived looking angelic - 25 of them ranging from 7 to 14 years of age, 14 boys and 11 girls. We were soon to learn something of their home background, and see the roguish element peeping out from beneath their angel faces. All of them came from problem families, many of them possessed only the clothes they stood up in, and some could not remember the last time they had had a holiday. But at least we were fortunate in that they were all clothed and shod. - although we learnt later that it was the local Family Service Unit who had begged the money and the clothes in order that they all had something on their feet, and some night apparel to sleep in. Almost all came from large families - nine or 10 brothers and sisters back home was quite common - and almost all the fathers were out of work or in prison…but if the children were rogues, they were delightful and humorous ones…essentially they were like children everywhere - friendly, lively and with a real depth of genuine affection. And for five glorious days they laughed and sang and ran among the green fields of Derbyshire…Each child also had to send a picture postcard home to their parents. It was revealing that some refused to send their cards to both parents, directing it either just to the mother or the father, while it had to be pointed out to Michael that it really was too late to write, "Send me a quid"...As we waved them back on their way home...we thought of what they would be returning to. It would be a return to overcrowded houses, insufficient food and sparse clothing. Three of the girls we suspected would be returning to a home devoid of all forms of lighting and heating...but at least we had given them one happy week which they would never forget. 12 year old Pat had summed it up on the last night when she remarked to me, "This week will never come again, will it?" I tried to reassure her that at least there would be other weeks…"
*****
So began the "Send-A-Child-To-Hucklow" Fund. My own recollection as a helper in the early 70s is that we didn't have any special qualifications, or required CRB checks in those days, though I was at the time a student for the Unitarian ministry, so presumed ok(!), and this was a sort of unofficial "rite-of-passage" of one's training. We had a particularly challenging group of kids from a very rough estate on the edge of Glasgow; an experience I shall never forget! One little lad reckoned he had found a "pal" in me, but, boy, did he try my patience!
Over the years "Send-a-Child" has grown and developed and adapted, or sought to adapt, to changing circumstances. It was formally constituted as a Charity with a Trust Deed in 1976, and appointed Trustees who had to meet at least once a year. The number of holidays each year has slowly increased. On a couple of occasions, we have sponsored a similar holiday held in Northern Ireland. Each year we set ourselves a target to raise the money required to meet the costs. In 2008 we failed to meet our target of £30,000, and had to dip into our reserve fund, but fortunately in 2006 we were encouraged by a generous bequest from the estate of the late Emily Bushrod.
That was then...this is now:-
In recent years there has been an average of 10 weeks per year, including a group of Muslim kids for 4 out of the last 5.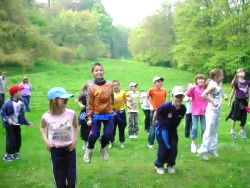 Who might benefit now? Asylum-seekers children could be a worthwhile "target group", but the efforts of one of our congregations to liaise such a contact foundered for a variety of reasons: not knowing if the kids would be around after 9 months of planning; difficulty in finding suitable, vetted leaders. We shall keep trying.
Each group usually consists of between 20 and 25 children, with between four and six Leaders. Currently the groups come from places like Manchester, Liverpool, Mansfield, Towcester, Bolton, and Blackburn, with children aged between 8 and 15, mainly from schools, or community projects in underprivileged areas. We have had groups from as far away as Leicester, London, and Bristol. They are selected regardless of creed, colour, or nationality, and it must be the case that they would not otherwise have a holiday that year. Send-a-Child not only funds, but selects the groups, though not the actual children, and liaises possible dates with the Centre management. We arrange and fund transport to and from Hucklow, and to be available for some trips out within a limited radius of the Centre, and we ensure that the Leader of each week has a float to pay for such as ice creams, odd snacks, and entrance fees to places visited.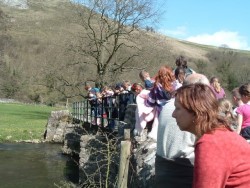 We require that health and safety safeguards are in place, that groups have adequate insurance cover, and properly CRB-checked Leaders and helpers.
It costs around £250 (a rough average) for the five-day holiday, running Monday to Friday, for each child.
*****
The holidays certainly reveal that even today in the United Kingdom of so much prosperity there are still needy, underprivileged children. The comments the kids make are revealing:-
One girl could not believe that they were having "three meals" at one sitting -soup, main course, and pudding.


Some children have never seen a real cow or sheep before — and a few years ago were surprised to find cows quietly grazing in the fields, when all they had heard about was "mad cows".


Many children had not only never ever been on holiday before, but had not even moved more than a mile from where they lived.


Amazingly this is not Great Britain of decades ago, but within the last few years!
*****
So what do they get up to...? Visits, walking, group activities, playing in the Centre grounds, learning lessons for life, …just being able to be children, surrounded by dependable, kind, supportive adults. Moods and behaviour are transformed. Then it is back home to often challenging situations; the coach falls silent as journey's end comes ever nearer… but something remains.
That there are lasting benefits from the holidays is confirmed by head teachers and teacher-leaders who tell us that following a holiday children are often happier, healthier and better behaved.
Even asthmatic conditions can be improved.
The following comment is chastening to say the least, reflecting a Great Britain now in the 21st Century:-
"It is sometimes very difficult to get children to remember some basic facts in the classroom for more than a few minutes, but they can still remember the way stalactites and stalagmites are formed and will probably continue to remember for a long time to come - even some of the less able children. It is also possible to encourage heath and hygiene by ensuring the children have regular showers and brush their teeth."
However, my current favourite is this... again,
From a Leader:-
"The children ...all face a variety of issues which act as barriers, not only to their education, but also to their social and emotional development...for many of these children, life is just about getting through each day, with very little opportunity for just having fun. The break in Derbyshire provided exactly that! For five whole days the children could put aside the stress of their everyday lives and simply relax. They could concentrate on just being children - carefree, inquisitive, full of laughter and fun."
*****
So that is "Send-a-Child"-"SACH" as we affectionately call it!
We have no paid staff, and operate on an administrative shoestring. I produce our Annual Report & Appeal on my computer, though we do have to get it copied. The % impact of any monies we receive is well-nigh total.
We, the dozen or so of us who are Trustees and I, must be doing something worth our time and efforts!!
Thank you for reading this story of British Unitarianism's own home-grown Social Action initiative, of which we should be justly proud. 12 holiday weeks are already scheduled for 2012.
How about sponsoring a "home" child?
Ernest Baker, Hon. Sec.
Our Donation Treasurer is:-
Sue Catts (Cooper),
8 Woodland Drive,
Beverley.
HU17 8BZ
The Send A Child To Hucklow Fund originated in 1961 and became a registered charity (No. 271585) in 1976.
© The Send a Child to Hucklow Fund